Thailand for Vacation
2015-01-05
Tomorrow December I'm going to Thailand for two weeks. Here's the gear I'm bringing. This includes clothes on my back and things in my pockets. A camera, phone, and USB battery pack are on my list though not pictured here.
1 pair of running shoes
1 pair of cargo pants
1 pair of cargo shorts
1 pair of long johns
2 t-shirts
1 button-up nylon shirt
1 lined wind breaker
3 pairs of underwear
3 pairs of socks
1 pair of motorcycle gloves
1 pair of sunglasses
case for sunglasses
house keys
wallet & money & credit cards & driver's license
2 pens
Lonely Planet Thailand guidebook
Alice & Wonderland book (Japanese)
folder & travel papers
passport
toothbrush
toothpaste
eye drops
ChapStick
small first aid kit & ibuprofen & headlamp & athletic tape
netbook computer & case & power cable
wristwatch
power adapter
combination lock
headphones & case
Canon PowerShot G16 digital camera
camera battery charger
Samsung Galaxy S3 cell phone
2 battery packs
2 USB cables
USB charger
4 1L Ziploc bags
1 2L Ziploc bag
1 plastic shopping bag
This time my flight goes out of Haneda Airport (羽田空港), also known as Tokyo International Airport (東京国際空港). Haneda is south of central Tokyo and much closer to my place than Narita International Airport. The airport was quiet in the early morning. The plane arrived in Chiang Mai around ten at night. My flight took me from Haneda to Beijing, then a six hour layover, and then the second leg to Chiang Mai. On the way, I got some nice views of Mount Fuji from the airplane window.
Mount Fuji (富士山) was lurking there outside the window. I had a window seat and a camera. According to the Air China rules, apparently cameras and computers can be used, except during takeoff and landing. Cell phones are banned for the entire flight, although small tablets are fine. It makes no sense to me. I ignored the rules and read a book on my phone, and the flight attendant ignored me ignoring the rules.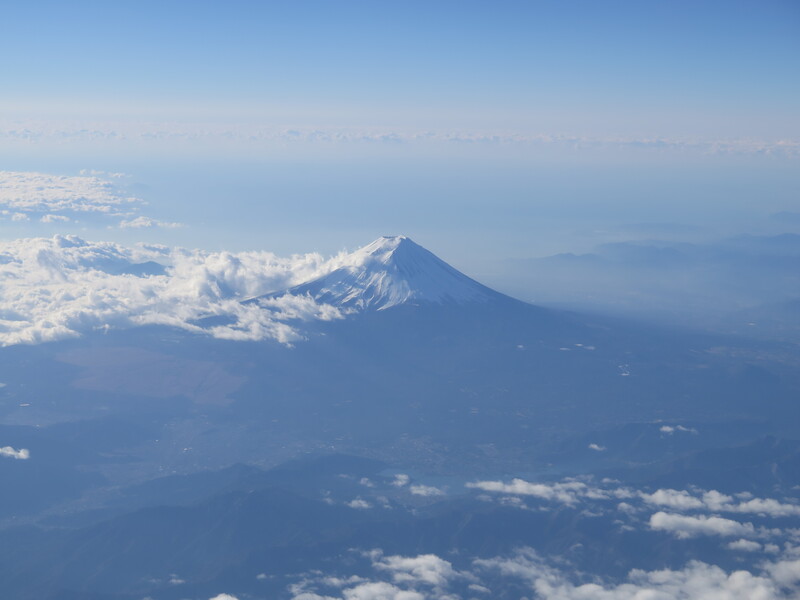 The air around Beijing (北京) looked dirty. I don't know what local standards are, but it was mildly unpleasant to look at and to know that that's where I'd be for an afternoon. The airport was nice and clean. We stood in line for an hour just to get from the arrivals area into the international transfer wing. That was a waste of time. At least I got a passport stamp. And there was nothing else to do, what with the long layover.
My flight to Chiang Mai (เชียงใหม่) landed in the late evening. It was a forty minute walk to where I'm staying, the Hug Hostel. 18.79535, 98.98619. In the morning I headed west. On the way, I got distracted by Wat Lok Molee (วัดโลกโมฬี). It's a neat temple several minutes from my hostel. 18.7961506, 98.9826942.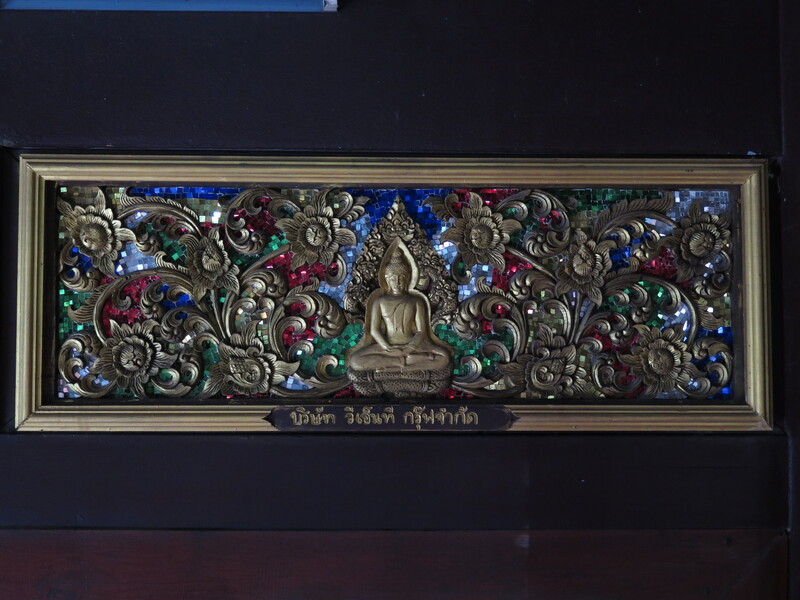 This temple is located in Sri Phum Subdistrict, Muang District, Chiangmai Province, in an area just to the north of the city moat. This temple was first given the name of Wat Lok during the reign of King Guna, as ten monks the Phra Maha Uthumphonbupha Maha Savamee Committee stayed there for some time.

In 1527 A.D. King Phra Muang Kaew commanded his people to build a vihan and a maha chedi in this area. In 1545 King Phra Muang Ket Klao was assassinated and, after the cremation ceremony, his ashes were stored in the chedi of this temple. Queen Wisuthidhevee then ruled the city of Chiangmai, until she died in 1578, and after a lavish funeral ceremony her ashes were also interred at this chedi.

The temple consists of a base of an ordination hall and a huge chedi, which is situated upon a large three [tiered] square base and square lotus base, decorated with two molded torus rings. The chamber of the chedi is constructed in a double-rabbeted square style, with a niche for a Buddha image on each of its four sides, and stuccos depicting two divinities in each corner of the chamber. On top of this chamber are more molded torus rings, followed by a round bell shaped feature and tall spire.

Although it is known that this temple was originally built in the 14th century A.D. the architecture of the chedi dates to the 16th century A.D.

— Sign at Wat Lok Molee. 2014-12-26.
I considered walking the four kilometers up to Wat Phra That Doi Suthop (วัดพระธาตุดอยสุเทพ) but decided to instead take the pickup truck taxi. What you commonly see in Thailand, especially outside Bangkok, is pickup trucks that have been converted into 8-person taxis. Benches and a covered roof are added to the bed. These trucks might have fixed routes and fixed prices, though they almost certainly don't have fixed timetables. You go as soon as the driver feels the truck has enough people in it to make the journey economically viable. "Doi Suthop" is sometimes spelled "Doi Suthep". 18.8052, 98.9216.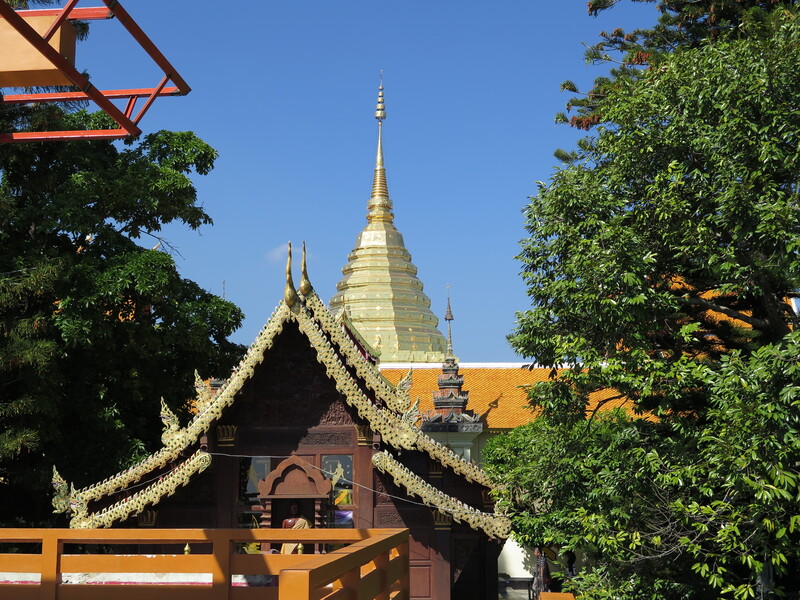 My timing arriving at Wat Phra Singh (วัดพระสิงห์) was fortunate. The late afternoon sun brought out color in buildings that might look bleached at noon. I went in a few buildings. The outside was more impressive. 18.78861, 98.98144.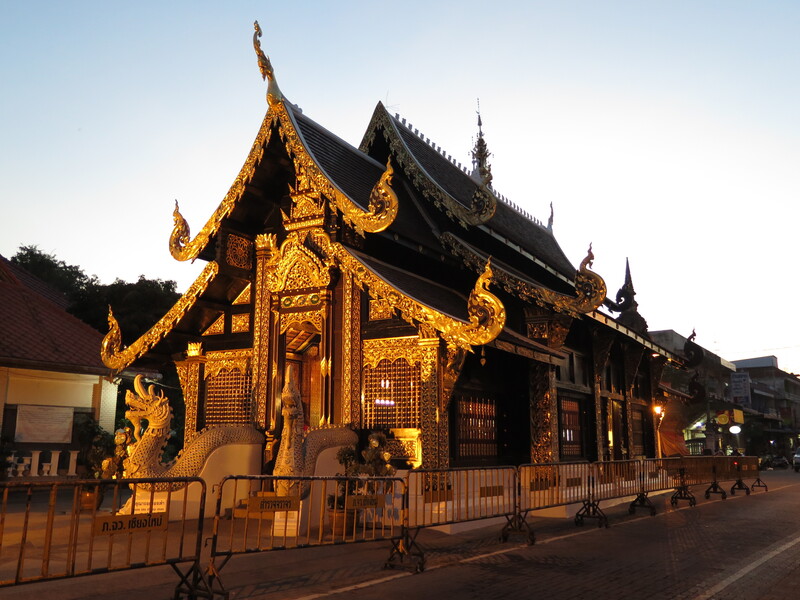 The temple of Wat Sadue Muang (วัดอินทขีลสะดือเมือง) is not famous, to my knowledge, but it has a marvelous color in the early evening. Half a dozen walkers-by were taking advantage of the lighting to snap a few photos. In Japan, when people take shots of them and a friend (or significant other), it's called a "two shot". I heard the same word today, but the photographer was speaking Thai. How many languages have adopted the same phrase? Do English speakers ever say it? I haven't. 18.7897064, 98.98697.
Adam said that I had to eat khao soi, a kind of chicken and noodle soup. His advice was sound, as it usually is. The lighting was dim, and the picture is unimpressive. The flavor was top-notch, though. That was dinner. For lunch I had a bowl of noodle soup with pork. Good stuff.
On Saturday I rented a scooter and rode to Doi Inthanon, the highest point in Thailand. This was anticlimactic. There were no views, and instead of views they provided a statue for praying and a sign for photographing. Prayers don't do much for me, and after a quick snapshop I bailed on the high point and got back to the good stuff. The good stuff was the mountain roads and the hiking. It's about a two-hour ride to Doi Inthanon National Park (อุทยานแห่งชาติดอยอินทนนท์). The first hour is a straight shot SSW along Highway 108. It was a hot and dusty stretch. My nose is red now. I look like Rudolph. At least it's not peeling. The second hour takes you on Route 1009 west up and up and up. Along with abrupt elevation change come some nice curves and scenic views.
Going down was a little scary. I have a motorcycle back in Japan. The bike I have is a manual, and when you're going downhill, you choose your gear and engine break with it. The little rental scooter was an automatic, and apparently they aren't capable of engine breaking. How frightening! The smell of burning rubber is generally disturbing, and all the more so when it might be your brakes. It turns out the burning rubber smell wasn't coming from my brakes. Or if it was, the brake pads were in good shape. So was I, after a few hours in the mountains.
The Kew Mae Pan Nature Trail is a one hour side trail not far below the summit of Doi Inthanon. There are some small waterfalls and big scenic overviews. You can hire a guide, if that's your thing, or walk along and read the trailside information signs to learn about the flora. I also made a stop at the summit of Doi Inthanon (ดอยอินทนนท์). At meters in elevation, it's the highest point in the country. 18.58848, 98.48746.
Yesterday I went to Doi Inthanon. Today I'm hopping a bus to Chiang Rai in the north. The early buses were full. I'm killing time drinking coffee, blogging, and planning out the rest of the trip. I don't have hotel reservations in Chiang Rai. Might have to walk to a few places to get that straightened out. Or maybe someone at the bus station there can help me find a place.
I haven't seen many people smoking. Even when walking by what must be designated smoking areas, they've been mostly empty. There are a few no smoking signs around some of the Chiang Mai temples, but even in areas with no signs, cigarette butts are a scarcity.
Today I almost ran out of gas for my little scooter but the army guys hooked me up and drew a nice map of how to get home. They thought I was helpless and lost, and they were half right. They'll let anyone rent a motorcycle here. By "motorcycle" I mean "motor scooter". The idea is that you give the shop your passport and the rental fee, and they give you keys and an old helmet. It's a little dangerous, maybe, if you've never ridden a bike before. Then again, if you want to try it out on the cheap, this is a good place to start.
When I left the rental place, S.T. Motorcycle, I had little gas and filled up at the nearby gas station. It cost about three dollars. After a mandatory temple stop, I headed east on some back roads. The idea was to do a short hike up Doi Pha Tang. After several hours of riding, which took me across the farmland, over the small mountain ridge, across more farmland, and up into the high cloudy hills, I got close to the trail head. That was good, but the gas tank was near empty, which was bad. Well, my map showed two small gas stations ten kilometers ahead, so I went there, but there were no gas stations to be found. Some of the local shops had tanks and things resembling pumps, which may or may not have held gasoline. It looked like fuel of some kind, but the tanks and pumps were small and there are many kinds of fuel in the world. I didn't know if that was what I needed and had no good way to ask. Things were looking spotty. Who wants to get stuck with no gas in the middle of the mountains in Thailand where nobody speaks English and you don't speak any Thai? That sounds horrible.
While contemplating the badness of the situation, I happened upon the hamlet of Doi Pha (19.90753, 100.49923). Seeing as my tank was soon going to be dry, I stumbled across a group of army guys and their army jeep next to a small field with what appeared to be two small soccer or futsal games going on. Why not ask them where we can buy gas? That might work! Plus, it looked like they were supporting the event somehow. Maybe they could support me, too. So I pulled up next to the jeep, said hello to a guy, pointed at my gas tank, and said, "Gasoline?"
The man understood the word "gasoline", though not English in general. Soon enough, a group of eight soldiers from two different groups, judging by uniform color, gathered near us to see what was going on. What was this foreigner doing? Was he lost? Where was he going? How in hell did he get to this side side road, far from any major tourist destination? As it turns out, I wasn't lost. I had a bad paper map in my bag and a good GPS-based map on my cellphone. But they didn't know that. There's no point trying to explain GPS navigation to people who haven't seen it in action. It's completely ineffective, and twice that when you don't speak the language. I didn't try. The man went over to the crowd and asked if anyone there spoke English.
A girl came over and asked in English what was wrong. I explained the situation. She translated for the army guys. They said hey, no worries mate, let us fill you up and while we're at it draw a map of how to get back to civilization. I didn't need the map, but far be it from me to turn down offers of assistance when someone is hooking me up with gas. By this point, the girl's mother came over to see what's up. Mom also spoke English and was slick about not interfering with her daughter's translating job. The man drew the map and explained it. The girl translated, and then the three of them labeled everything in English in case I forgot the explanation. The short summary was, "Turn right at the military checkpoint, turn right at the school, turn right at the army building, and turn left where the road curves left." They didn't even want money for the gasoline! Nobody had a proper siphon, and we used a piece of tube. The junior guy started the siphon by sucking on the tube. It got him a mouthful of gasoline. I felt bad about that. After all, I'm the idiot with no gas, so shouldn't I have to suck on the damn tube? But no, he did, and they gave me a full tank! Thinking about it later, maybe taking my money would have been a big pain in the ass. They gave away army fuel, and if they took money there'd be no good way to re-pay the army. The only real option would have been to pocket it. Integrity — great.
I never got to the hike. The views from the road were great and I passed the trail head without realizing it. Bummer, right? Or maybe not. Maybe running low on gas and getting saved by a group of army guys and an eleven year old bilingual girl was as good as any other way to spend the afternoon.
Before heading into the mountains this afternoon, I went south to Wat Rong Khun, a large white temple complex. There are a dozen white temple buildings. The central one is surrounded by a small moat complete with white wooden bridges and archways. The complex has one smaller gold building just for contrast. Unlike most other temples I've encountered in Thailand, this temple is not old. Construction began in 1997, according to Lonely Planet. 19.82402, 99.76283.
I found a room for three nights at a cheap hotel called Jansom House. It's near the center of town with the bars, massage parlors, motorcycle rental shops, and tourist information services. Chiang Rai is small and there are many places to stay. Even now during the high tourist season if you walk around in the early afternoon you can find a room quickly enough. If you're arriving in the evening, you're better off booking ahead online. 19.90327, 99.83208.
Thailand is known to have good food, and I've been satisfied. I ate all of everything they brought me, and it's a good bet the rest of the trip will go the same way. Then again, I usually eat whatever food people put in front of me, so the metric may be faulty. Except for smelly soy-based foods like natto — I won't eat natto or anything like it. To my knowledge they don't have natto in Thailand. Bonus points for that. One standard fare in the north is noodle soup with fish, chicken, or some kind of meat. You get a little bowl of it with chopsticks and a spoon and a glass of ice water for forty baht. (The Thai currency is "baht". 40B is something like US $1.50.) This works out well.
It seems many locals eat dinner at the local night market, at least in the cities I've visited. Or else they eat at home. Either way, many Thai restaurants are open for lunch and close in the late afternoon. Of course there are some restaurants open in the evening, but these tend to be oriented towards tourists. Not that there's a problem with tourist-oriented restaurants. After all, they're more likely to have picture menus and speak English. But if you're in search of that hard-to-define characteristic known as authenticity, you might prefer a place that locals frequent.
Sop Ruak, a small town in NNE Chiang Rai Province, is home to two opium museums: the House of Opium and the Hall of Opium. Both of these are worthwhile visits.
Addicts: are they not also humans? Since they are human, shouldn't we help them? If we can help them, it will be like giving them new lives, and so we should do it.

— Saying of the Princess Mother
The House of Opium is near the center of Sop Ruak. It's a small two-story museum with some information about opium cultivation and local tribal folklore on opium and tobacco. The price of admission includes a postcard. It's a good spot to leave your motorcycle while you walk around town. 20.35128, 100.08164.
The Hall of Opium (หอฝิ่น) is epic. The princess mother of Thailand started a project years ago to help the hill tribes to grow less opium. The project itself was and is fairly expansive, including expanded medical centers, opium addiction treatment programs, agriculture and job training, and this monolithic museum. You park and enter from the front, and the museum is so big that when you leave through the back there's a van to take you back to the parking lot. There's even a five minute introduction video with 3D rotating models of the building and each floor. It's kind of like the Death Star hologram in Return of the Jedi except not as slick. Losing in a CG battle against a movie that came out in 1983 ... isn't that embarrassing. If you actually looked at every exhibit and watched every video in this place, it would take several hours to complete. I skipped half the stuff and felt that was about right. Some medicine given to children in the 1800s to help with coughs or soreness when teeth came out was a mixture of alcohol and opium. As young as five years old, the bottles read. Some health syrums also contained caffeine. Can you imagine giving your kid uppers, downers, and more downers all because of a sore throat? 20.3636771, 100.0736875.
The Golden Triangle (สามเหลี่ยมทองคำ) is a large swath of land around the border of Thailand, Myanmar, and Laos. According to the museum exhibits I saw today, it got its name because goods were exchanged for gold. In Thailand, the main town in the Golden Triangle is Sop Ruak. There's a temple on a hill with an overlook of the river. Oh, and a large bronze Buddha, too. A desperate travel guide writer might describe it as "Little Chiang Mai on the Mekong".
The motorbike ride from Chiang Rai took about ninety minutes, though if you took main roads you could go faster. I found some sunblock and used it today, but even so my nose and forehead got a little redder. The sunglasses tan line is quite the look, don't you agree? If you don't see any selfies in my photo collection, that's why. Also I find the word "selfie" to be off-putting. Why couldn't we just call them "vanity pictures", "solo snaps", or "self-photos"?
On the way back to Chiang Rai I took a local highway, and lo and behold there was an absolute behemoth of a statue up on the hill near a large temple complex. Marjorie says, "The typical Chinese fat 'Buddha' isn't the Buddha, though some identify it with Maitreya." I don't know the name of the place. There was a sign, but it didn't have any English on it.
On Wednesday I took the bus from Chiang Rai down to Sukhothai (สุโขทัย). The ride was long and peaceful. In the north were rolling hills. They gradually flattened into farmland. On Thursday, I rented a bicycle and rode a dozen kilometers west to the ruins of Old Sukhothai. The bus ride was long and gave me time to think about whatever came to mind.
Sukhothai Historical Park
Sukhothai Historical Park (อุทยานประวัติศาสตร์สุโขทัย), also known as Old Sukhothai, is ten or fifteen kilometers west of New Sukhothai. Tuk-tuks and larger bench-seating trucks that will take you there. Or you could rent a motorbike and ride out that way, but if you only have the single destination in mind I wouldn't bother. The ruins themselves are the center of the old town. Pay the entry fee, get the ticket, and walk around as you see fit. Early morning and late afternoon are good times for pictures, because the regional tour groups arrive late and leave early. 17.021111, 99.703611.
To the west of the central ruins are the city walls, and spread out west of the walls are many more ruined temples. I took an hour-long stroll to see some of them. Don't forget sunscreen and a bottle of water.
This is the plains, and it's hot. My trip started in the north, and then I went farther north. It was cold in the morning in the mountains of Chiang Rai, especially riding on a motorbike at high speed. But here on the farmlands in Lower Northern Thailand, temperatures are hot during the day. It's probably cold in Tokyo right now. I don't know — I haven't checked.
Yesterday I started east to find some national parks but bailed early. Today I headed west and succeeded. My plan was to rent a scooter, ride east past Phitsanulok to the mountains, and check out some of the waterfalls there. The road came up in passing on a bicyclist's blog entry last month, and it sounded nice. It sounded nice on paper but sucked in practice because of the traffic. The four lane road was packed. Everyone was moving at a good clip, which was half the problem. Small 110 cc scooters can't go very fast. Or even if they can, it feels and is unsafe to drive them very fast. When cars are going by you one after the other, and when those cars make little effort to lane change before overtaking, it's uncomfortable. Uncomfortable enough to, in this case, flip a U-turn and find some side roads back to my guest house. The side roads were quieter, slower, prettier, and safer.
Ramkhamhaeng National Park
Ramkhamhaeng National Park (อุทยานแห่งชาติรามคำแหง) is roughly thirty kilometers WSW of New Sukhothai. The easiest way to get there is by rental car or motorbike. I saw one pickup truck taxi, but who can say if that was regular service or chartered. 16.908, 99.650.
The mountain of Khao Phra Mae Ya is a good place for a day hike. The trail head has a large parking area, restaurant, general store, and ranger station. The trail up is well-maintained. It's steep and dusty and winds through bamboo forest. I bet it'd be dangerous in the rain. You start off in the trees and stay there for several kilometers. About a kilometer from the top there's a campground and a picnic area. From there, the trail takes a gentle turn, and the final kilometer is just a leisurely stroll.
The summit itself is marked by a sign. There are some big rocks for taking a break. It's a good place to take pictures. The surrounding areas are mostly low-lying farmland, and on a clear day you'll have a spectacular view. It was a little hazy today, as you can see from my pictures. In any case, this was a nice quiet getaway from temples and massage parlors. 16.865827, 99.6690535.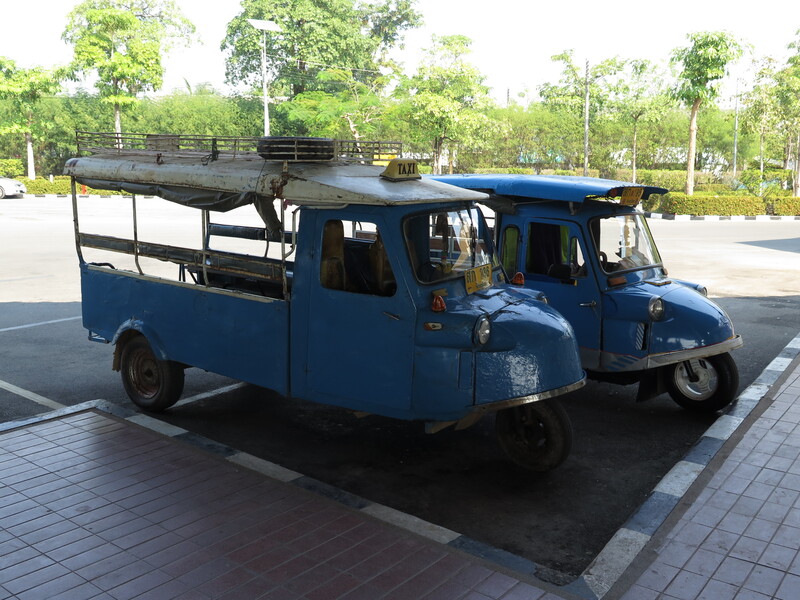 It was a long bus ride yesterday from Sukhothai to Chiang Mai. The seats were horrible. I could barely walk when I got off the bus. That was bad, but it was the only rough bus ride of the trip. The other two buses had nice seats with decent leg room. It varies by company, I guess. The route I took had only one carrier so there was choice. Today I bummed around Chiang Mai, and tonight I catch an overnight plane to Beijing and an early morning flight to Tokyo.
What makes a hostel bad? I suppose the main factors are security, liveliness, and cleanliness. Liveliness goes both ways: you want a place with a gathering space so you can meet people and make friends, but you want the sleeping quarters to be relatively quiet. It's not going to get perfectly silent; for that, you should go to a hotel instead of a hostel. The place I stayed at, the Baan Khun Hostel, went one and a half for three. It was clean and lively.
You can't blame the hostel owners when guests are too loud. Who would have known that of the six bunks in my room, five would be filled with people speaking some language I don't know — Portuguese, maybe? — in the wee hours? Who would have guessed that those people don't know how to close a door quietly? In case you don't know, when you want to close a door quietly, use two hands. Put one hand on the knob and the other on the door itself. That way there won't be any rattling when the door hits the frame. Also, close the door slowly. Like I said, though, that's just par for the course. Sometimes large groups make noise, and you put a pillow over your head and go back to sleep.
The Baan Khun Hostel had horrible security. Nothing of mine got stolen, but that sure as hell wasn't because the hostel owners or staff made any efforts to keep it safe. There was a man at the front door, but he was drinking and disappeared around 9:30. They gave me a key to my room, but the lock didn't work. Since I had to put down a deposit for the key, it was strictly a losing proposition — the best thing that could happen is that I wouldn't lose the key and I'd get my 100 baht returned on check-out. Oh, some of the rooms had lockers, but other rooms didn't. My room had a few, but there were more people than lockers, so I didn't get one. Slept with my backpack by my head. To top it off, there wasn't even an outlet near my bunk. I had nowhere to charge my phone. Also, the bartender overcharged me for beer. Skimming cash from the customers — what the fuck is that?
Now, this all sounds bad, but what can you expect for six dollars a night? My first two nights in Chiang Mai I stayed at a slightly more expensive place — maybe nine dollars a night? — and they did everything right. You get what you pay for, and cheap is fine as long as you're willing to deal with it.
Security is less important than cleanliness. My friends sometimes tell stories of their own encounters in hostels and cheap hotels where they got bedbugs or mites. Some of those bugs will send you to the hospital, and if you're unlucky enough to carry them back home, you need to clean your entire house and wash all of your clothes. I'd rather risk somebody stealing my computer and socks than stay at a dirty hostel. My money and passport stay in my pocket, and while idle theft is tolerated — encouraged, if you count the bastard who overcharged for beer — mugging is generally considered unseemlingly behavior among the lightweight criminal class that lurks near your average hostel. Heavyweight criminals don't bother — we don't have enough money to make major crime worth the risk.
There are not as many temples in Thailand as there are vending machines in Japan, but still the count is nevertheless large. On the other hand, Thailand has few vending machines. This has at least two obvious consequences. The first is that if you want to take pictures of temples, you don't have to go far. The second thing is that small general stores are all over the place. If you want to buy a soda, beer, or bag of rice crackers, just walk a hundred yards. Even in the countryside, each small village has half a dozen little shops selling mostly food and to a lesser extent household goods.
7-Eleven has a powerful monopoly on convenience stores. There might be a few other chains in the country, but excepting the thirty-five 7-Eleven shops, I didn't see any two shops sharing the same name in my stay. Still, one should not make strong conclusion from my two weeks' worth of idle convenience store observations. There must be at least one other chain out there, somewhere.
Mapping
I'm an active OpenStreetMap mapper, and when I travel to places that aren't well-documented, I take out my GPS unit (i.e., smart phone) and start recording things. When you're traveling, you usually want to find things like grocery stores, convenience stores, restaurants, bars, and hotels. Other businesses, especially large businesses, are nice to have on the map because they help with orientation. In many countries, streets either don't have names or are poorly signed. In Thailand streets appear to have names, which puts the country a level above Japan and Nicaragua, but street signs are a rare sighting, and if buildings have numbers I never noticed any.
Mapping the world is a big project, and you can't do it alone. But it's hard for people to understand how group projects work, so you start off thinking of a one-person project. First of all, wherever you live you can map in great detail. You can put all the businesses within a quarter mile of your house on the map, if you want to spend a few hours doing so, and declare that that little corner of the globe is done, it's mapped, and nobody has to worry about it for a few years. Second, if you go somewhere with almost no map data, everything you do is hugely important. If there are no gas stations on the map and then you add one, you've just made the map for that region usable when it wasn't before. The same goes for post offices, convenience stores, and hotels. When there's very little data to start with, even a few additions are immensely useful. Not speaking and reading the local language limits your effectiveness, but it also focuses your efforts.
The two ends of the spectrum, where you map a place in great detail or add a little detail to a place with none, are all about individual work. The more common situation, though, is where a place is partly mapped. Probably people have added some data over the years, but many things are missing and maybe the businesses that the last mapper added several years back are closed and new ones have sprung up. In this kind of situation, if you want to spend some time, you can walk down the road, log what you see. Later when you're back at your computer, you compare it with the old map data and fill in some of the gaps. Motivation is a concern here, because some of what you logged when walking around is duplicate data, and you might feel like you've wasted your time. But some of the data you gather will be new, and that extra level of detail is what separates a usable map from a good map.
Whenever I go somewhere, I map it. Many years ago I worked part time at the campus dining hall. My boss Mark said, "You don't know what the customers want to eat. So you make some dishes that you enjoy eating, give them the choice between a few, and they'll probably be happy enough." He was onto something there. There are countless businesses to map, and nobody is paying us to do it. Which ones should we handle first? I can't say where others want to go, but I know where I want to go. So if I have reservations at a hotel or a restaurant, or if I'm taking my motorcycle into the motorcycle shop, I map that place. Maybe I'll go there again, or maybe not, but if anyone else is in the same situation as me, they'll be able to find their destination without much fuss.
It's ten o'clock at night. My plane leaves at eleven thirty. It is always tempting to down a couple of beers before getting on an airplane. Makes it easy to sleep. Thai beer didn't impress me much. Apparently the locals sometimes drink whiskey. Anyway, there is no airport bar. The Chiang Mai International airport has five coffee shops (the biggest of which, the sign says is Black Canyon Coffee), three junk shops, and one luggage storage establishment. Having a double espresso at eleven at night is a bold maneuver, and back in college I often consumed caffeine in such quantities. Red Bull was my drink of choice back then, except when I was broke, and then it was Mountain Dew. But Mountain Dew got old, and when I had even less money, only coffee was affordable. Not espresso, but rather the cheap gas station brew where you fill up your mug for twenty-five cents. Some of that gas station brew is atrocious, but that's why they give you powdered cream and sugar. But that was back in college. These days I'm older and pull fewer all-nighters.
College students stay up all night studying because they want to do well, but do the economics majors ever realize that this directly contradicts the mythical man hour that they studied the other term? There was a period in history where management types talked about the "man hour", which was supposed to be the amount of work a white-collar worker could ordinarily finish in an hour. There was much to do with deciding how big a new task was, how many hours of work it ought to take, and from that determining how many people should be on the project team. Other people later came along and pointed out that this was bullshit, and you couldn't really say how much work got done in one hour. The management folk have probably never forgiven reality for dealing them this rotten deck of cards, but reality doesn't care much about people's opinions. For college students and business folk, productivity varies based on many factors, and lack of sleep is one of them. How much better would my grades have been if, instead of staying up all night in college, I'd gone to bed on time, gotten up in the morning, and finished my homework then? We'll never know, because I didn't ever try it and don't feel like experimenting now. Sleep is important, and with any luck I'll get some on the airplane tonight.
At the end of the day, caffeine is no good because you need to sleep sometime. Alcohol is boring because it keeps your brain from working, and most other mind-altering substances that come to mind are illegal, have bad side effects, and aren't generally available in international airport terminals. There's not much to do except drink water, finish the this blog entry, and wait around until boarding time. It was a good trip, and now is a fine time to go home.
Overview
Day
Date
Activity
Lodging
Thursday
December 25
Haneda → Beijing → Chiang Mai
Hug Hostel
Chiang Mai
Friday
December 26
Chiang Mai
Saturday
December 27
Doi Inthanon
Sunday
December 28
Chiang Mai → Chiang Rai
Chiang Rai
Jansom House
Monday
December 29
Doi Pha
Tuesday
December 30
The Golden Triangle
Wednesday
December 31
Chiang Rai → Sukhothai
Sukhothai
TR Guesthouse
Thursday
January 1
Sukhothai
Friday
January 2
Around Sukhothai
Saturday
January 3
Sunday
January 4
Sukhothai → Chiang Mai
Baan Khun Hostel
Chiang Mai
Monday
January 5
Chiang Mai → Beijing
Tuesday
January 6
Beijing → Haneda
Day
Date
Activity
Lodging