Motorcycle Ride
2013-08-11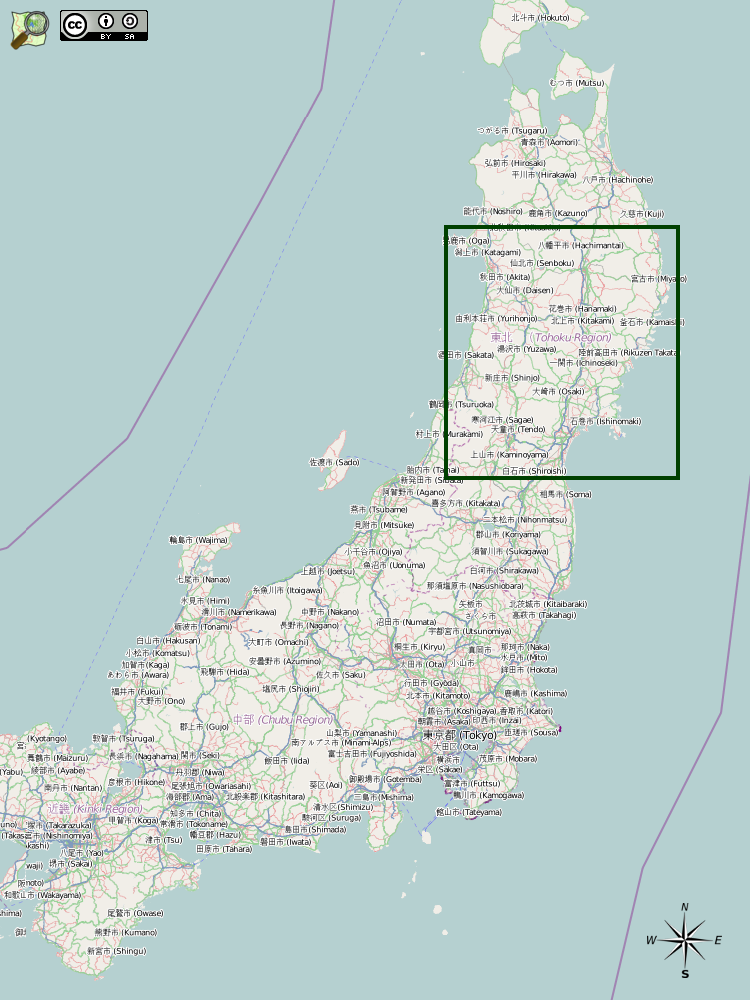 For summer break this year I took a week, rented a motorcycle, and rode around Tohoku. Here are some pictures and commentary on the trip. In five days — four 24 hour days of rental, to be precise — I rode 871 kilometers. That doesn't sound like much to an American, but in terms of hours, it's quite a lot. I was on the bike for more than half of each day, except for the first and last days. I took lots of stops, though, which kept the miles down, and I only used the expressway once, because it's not as fun (fewer curves, too many cars) and it costs more. I also put together a video of the trip at https://www.youtube.com/watch?v=vSGGWofBKjo.
| Day | Start | Km | End |
| --- | --- | --- | --- |
| 1 | Yamagata City | 131 | Sendai |
| 2 | Sendai | 250 | Ichinoseki |
| 3 | Ichinoseki | 180 | Chokai |
| 4 | Chokai | 189 | Chokai |
| 5 | Chokai | 121 | Yamagata City |
| Total | | 871 | |
Day 1: Tokyo → Yamagata → Zao → Sendai
If you want to be a bird why don't you try a little flying?
There's no denying it gets you high.
Why be shackled to your feet when you've got wings you haven't used yet?
Don't wait for heaven, get out and fly.

— If You Want To Be A Bird. The Holy Modal Rounders. Easy Rider (1969).
I took the shinkansen to Yamagata and rented a motorcycle there. You can rent motorcycles in most big cities in Japan. Renting a motorcycle costs more than renting a small car. For a 250cc bike, which is what I rented, it came to around 10,000 yen ($100) a day including insurance and helmet rental.
My train was in the morning, and I got the bike in the early afternoon. According to Motorcycle Paradise, the Zao Echoline (蔵王エコーライン) is rated as one of Japan's top rides, according to a bike magazine three years ago. Zao is more famous as a ski area, though I never went there when I lived in Tohoku because it would have been a three or four hour drive. I rode to a parking lot near the summit, went for a long walk, and got back on my bike right as the rain hit. Going down the eastern side of Zao into Miyagi was a wet experience. My REI Gore-Tex rain coat was not working at all, so I threw it away and bought a cheap replacement at a chain store. The summers here are hot, but when you're soaking wet wearing a rain coat that doesn't work, you can get cold, which is bad. But once I had a functional rain jacket on (my rain pants were fine from the start) I warmed up and felt pretty decent. Three hours later when I got to the hotel, they said it was full. But as I was leaving, they said wait no, a customer had just canceled and would I care for a room. That was the end of the first day.
The motorcycle I rented was a 2012 Kawasaki Ninja with a black and orange color scheme. The Ninja comes in various sizes. I rented a 250cc, because I'm thinking of buying a motorcycle, 250cc bikes are economical, and I want to try out several different machines. In Japan, all cars and any bikes larger than 250cc have to undergo biannual inspection (called shaken). This is both tedious and expensive. Even a small car's inspection & repair fee will cost at minimum 80,000 yen ($800), and if you have an older car, it might cost 200,000 yen ($2,000) or more. For old used cars, the inspection & repair fee can be more than the cost of buying another similar vehicle. Motorcycle fees are generally lower than car fees, but if you get a 250cc bike, you can avoid the whole affair and still have enough power to go fast.
The Zao Echoline starts around Kaminoyama, which is just south of Yamagata City. It goes east, through the mountains, and ends near Murata in Miyagi Prefecture. The Zao Echoline a part of Route 12. As you can see on the topographical map below, there are a lot of curves and lines, which generally makes for a fun ride. The road is also quite exposed. There are a lot of lookouts and views.
Day 2: Sendai → Minamisanriku → Kesennuma → Rikuzentakata → Ichinoseki
Miles from nowhere, not a soul in sight. Oh yeah, but it's alright.
I have my freedom. I can make my own rules. Oh yeah, the ones that I choose.

— Miles From Nowhere. Cat Stevens. Tea for the Tillerman (1970).
On the second day I started out with a few hours of expressway just to get out of Sendai. From there it was the eastern coast of Tohoku — town after town that was hit by the 2011 tsunami. The first town I came to is Minamisanriku. The low lying areas were not rebuilt, with a few exceptions here and there. Road construction was going strong, though. The few businesses that had been rebuilt were prefab buildings. The Seven-Eleven convenience stores in this region are built from two prefabricated building pieces: the front has fake brick and the back is regular siding.
In 2011 after the tsunami, Paul and I volunteered in Kesennuma for a week in early May. We also came back a few more times that summer. I decided to ride up the coast for a while because coastal rides are scenic and because it gave me a chance to go back and see what life there is like two years later. The town itself seems largely organized. The low lying areas are in large part not rebuilt, except for the fishing industry which only makes sense near the ocean. Many people are still living in temporary housing built in the months after the disaster. When Paul and I delivered fruit back in 2011, our main targets were Kesennuma Elementary School, Kesennuma Junior High School, and the Kesennuma Shimin Kaikan. The latter two of those are pictured below. Those sites were all temporary evacuation sites which returned to normal working order in late fall 2011 after temporary housing construction finished.
When volunteering two years ago, I once stayed at Jess's apartment. Jess is an American woman who was an ALT in Kesennuma for 2010-2011. Paul and I slept in our cars for a week, but luckily for our hygiene, one of the nights in the middle we had a chance to stay at her apartment and take proper showers. Jess is back in the U.S. now, but I got messaged her on Twitter and asked where to go for lunch. She said to go to Yeti, a small mom and pop Nepalese restaurant. I had curry. It was very good. After lunch I rode up to Rikuzentakata, which is not recovering as well as Kesennuma, presumably because much more of it was very close to the sea and sea level. In the evening, I went to Ichinoseki and settled into an internet cafe for the night.
Day 3: Ichinoseki → Kurihara → Yuzawa → Chokai
Campfire how'd you make it out here? Campfire I don't know myself.
If I'd taken a left at Albuquerque, I wouldn't be here, but somewhere else.

— Campfire. A Hummin Acoustical Acupuncture. Remembrance (2004).
There is a very nice highway, Route 13, that connects Naruko Onsen to Yuzawa. It has many popular hot spring resorts, nice views, and curvy roads. I did not take Route 13, because I've taken it before. Instead I took Route 398 which parallels Route 13. Or rather, both roads twist and bend around and over mountains and passes, so they really aren't parallel to anything. Route 398 is small. In most places it's two lane, but here and there it goes to one lane. I imagine they close it in the winter because of the snow and lack of traffic. Sometimes it feels like remote roads like that are hard to find in Japan, and it's comforting to know they're out there.
I got to Jinego by noon and took a shower at my old house. Russell is living there now. He has transformed the bedroom into a band practice room. (Advertising promotion: Russell released an album recently. The title is The Way of Things. I've only heard one track so far, and it's pretty decent.) Instead of a bed, there is now a couch, a drum set, a guitar, a mic, and a harmonica on a headset so you can play it while also strumming the guitar or pounding on the drums. Then again, I've never heard anyone play the drums and harmonica together. For lunch I went to Sakae Shokudo in Yashima. They have a monster of a tonkatsu teishoku, which is a breaded and fried pork cutlet with sauce, accompanied by rice, shredded cabbage, mayonnaise, miso soup, pickles, and an orange slice. The food is greasy but marvelous, and the serving size is downright ridiculous. I skipped breakfast and only had a light dinner just so I wouldn't gain a few kilograms overnight.
One of my hobbies when I lived in Akita was helping out with volleyball practice. (Sometimes I went to basketball practice, as well.) I often practiced with the Yashima Junior High School team, sometimes with the Yashima Senior High School team, occasionally at Chokai Junior High School, and on most Mondays, with the Chokai elementary school kids. So I went to elementary school practice in the evening to say hello and see how the kids and parents were doing. They were doing well, and of course the kids have gotten taller. Then the parents insisted that I participate in practice, clad in blue jeans as I was. My old student Saki, who did the junior high school English speech contest in 2008, was at practice just to help out. Sometimes people say there's not much to do in the countryside, and that may be true. But you can find things if you try, and she would rather help out with volleyball than stay at home and watch TV.
Day 4: Jinego → Nikaho → Mount Chokai → Yashima → Jinego
This April, Chokai Elementary School opened its doors. The school is next to, and connected to, Chokai Junior High School. The three old elementary schools in Jinego, Hitane, and Kawauchi were low in numbers and merged to form a new school. The school building looks very nice. There are many open areas and windows. It is summer vacation, so the students weren't there. Teachers were, though. Next door at Chokai Junior High School the sports and culture clubs had practice. This year, the brass band has around thirty members. The art club has half a dozen. The volleyball club has eight, which is one up from last year. And the basketball club, which only has two eighth graders, now has six seventh graders who are all quite interested in the sport. The baseball and tennis teams were practicing hard in the hot sun. I can recognize most of the students and perhaps come up with half of their names on the spot, but many of them are so much taller or otherwise different looking from two years ago.
There are two popular trail heads for Mount Chokai. I lived closer to the trail head at Haraikawa, near Yashima, so I always went there when I wanted to hike. But on the far side, near Nikaho, is another popular trail head. That starting point is far more popular than Haraikawa, probably because it's easier to get to, and the trail is gentler. In fact, the Nikaho side had a lodge, restaurant, and small museum. To me, though, the more important feature is the Chokai Blue Line (鳥海ブルーライン), which is the road leading up to the trail head and lodge. This is another road that Motorcycle Paradise says is one of Japan's best. To get to Chokai Blue Line I first took the Chokai Green Line, which is another road on the foothills of Mount Chokai. The Green Line starts around Foresta Chokai near Yashima, goes over hills and past the former elementary and junior high school at Kamagadai (39.23055, 140.03364), and continues down to Nikaho. Kamagadai closed in 2010. In the last few years, there were less than twenty students. In fact, there were about as many staff as there were students! This type of struggle is happening all across rural Japan. Jobs for young people are mostly in the big cities. (Heck, I moved to Tokyo to get a job after working to contract limit in Akita.) The lack of jobs leads to a decline in the rural population, and correspondingly, some rural schools and other public facilities have to close or merge with their neighbors. No doubt this is not an easy thing for residents of these rural communities. How does it feel to see the junior high school that you went to close, and for its students to be sent by bus to a new one twenty kilometers down the road? ... Anyway, before you get to Nikaho, if you take a left at some intersection in the middle of nowhere and keep following the signs, you get to the Blue Line, which twists its way southeast up the side of the mountain to the parking lot and visitor's center. Then, if you like, you can continue on the road southwest and down to the Sea of Japan near Sakata.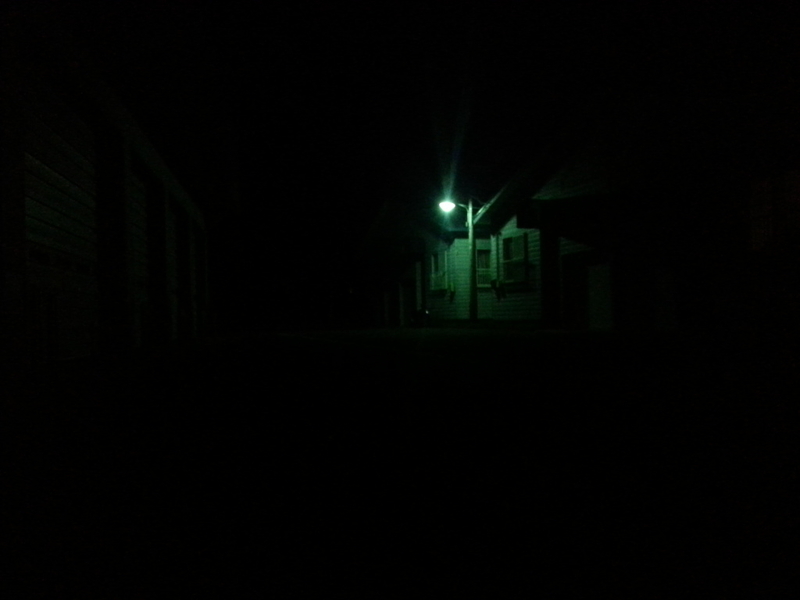 Day 5: Chokai → Yamagata → Tochigi
Walk along the river, sweet lullaby.
They just keep on flowin', they don't worry 'bout where it's goin', no, no.
Don't fly, mister blue bird, I'm just walkin' down the road.
Early morning sunshine, tell me all I need to know.

— Blue Sky. The Allman Brothers Band. Eat a Peach (1972).
It was raining for somewhat less than half of my trip. That is to say, it rained most of the first and last day and half of the second, but the first and last day were shorter in hours by virtue of being half days. I was worried about the rain, of course, because I had little experience with it. But for the most part, the places and times it fell were not a big problem. It was only on the last day where I changed my course because of the weather. There are several very long tunnels that allow Highway 13 to go smoothly from Yuzawa (in Akita) to Kaneyama (in Yamagata). The tunnels are not very old, though, and (part of) the road that everyone used to use before the tunnels were built still exists. You can take it, if you want to spend an extra thirty or sixty minutes, and it goes up and down and around in a nice curvy fashion that is generally appealing, except if you have a deadline or are in a heavy rain storm like I was.
The Kawasaki Ninja is fun to ride. The clutch is forgiving — you can use almost no accelerator and not stall, somehow. The bike is light and easy to handle. It's fairly small, and for me (5'9"), any smaller would be too small. The acceleration on this bike, or any similar to it, is quite high. I didn't have a chance to speed test it, and neither do I have the experience or gear to do so safely. On the expressway, I rode 80-90 km/h comfortably. Certainly the bike can go faster than that, though one should take care to note that no roads in Japan have a speed limit greater than 100 km/h. In the early afternoon, I dropped the bike off at the bike rental shop, walked to Uzenchitose (the nearest station). From there it was just a combination of two shinkansen rides and three local trains to get down to David and Amanda's place in Tochigi.
Day 6: Tochigi → Nasushiobara → Tokyo
In the morning, David, Amanda, and I drove up to Jon's place. We played cards with Jon, KK, and Bec for a while. Jon has a game called Cards Against Humanity which is, roughly speaking, a relatively dirty remake of Apples to Apples. Luckily for me, Bec was driving to Tokyo that afternoon. I hitched a ride and went home.
On a technical note, the photos here were taken with a Samsung Galaxy S3. I usually carry a digital camera, but this time I tried the cell phone to see if the ease of uploading combined with the weight and size cut would be worth the sacrifice in quality. The maps here were all made using staticmapmaker with data from OpenStreetMap, OpenCycleMap, and Cloudmade Maps.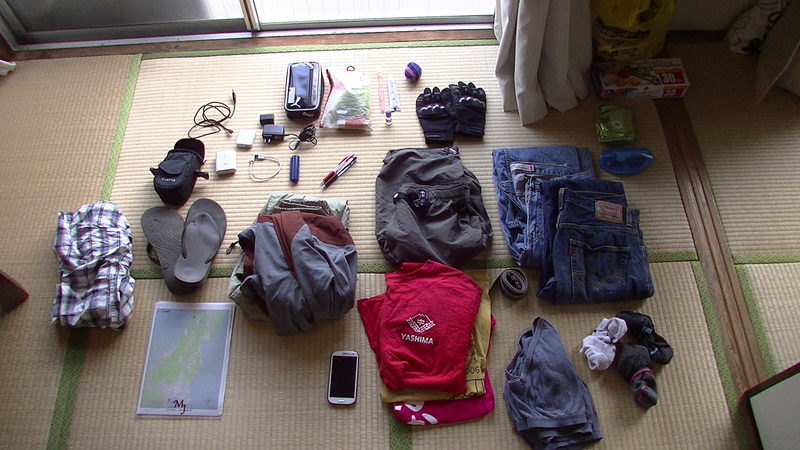 Gear
Jeans (3x)
Belt
T-shirt (3x)
Underwear (3x)
Socks (3x)
Rain pants
Rain jacket
Long sleeve shirt
Sandals
Shoes
Shorts
Wallet & keys
Motorcycle gloves
Sunglasses & case
Backpack
Video camera & charger & case
Cell phone
USB power plug
USB cable (2x)
First aid kit
Sunscreen
Toothbrush & toothpaste
Medicine
Hackeysack
Headphones & case
Maps
Phone list
Bank book & stamp
Red pen
Black pen
Body wipes
Ziplock bags
Plastic shopping bags