Thanksgiving and Turkey
2020-11-23
Every year November 23rd is a Japanese national holiday, Labor Day Thanksgiving. This year, my friends and I decided to celebrate American Thanksgiving instead. Because of COVID-19, international travel this summer was a total no-go, and the winter doesn't look so hot either, we were quite excited to have a get-together. A potluck celebration at Jimmy's place, marvelous.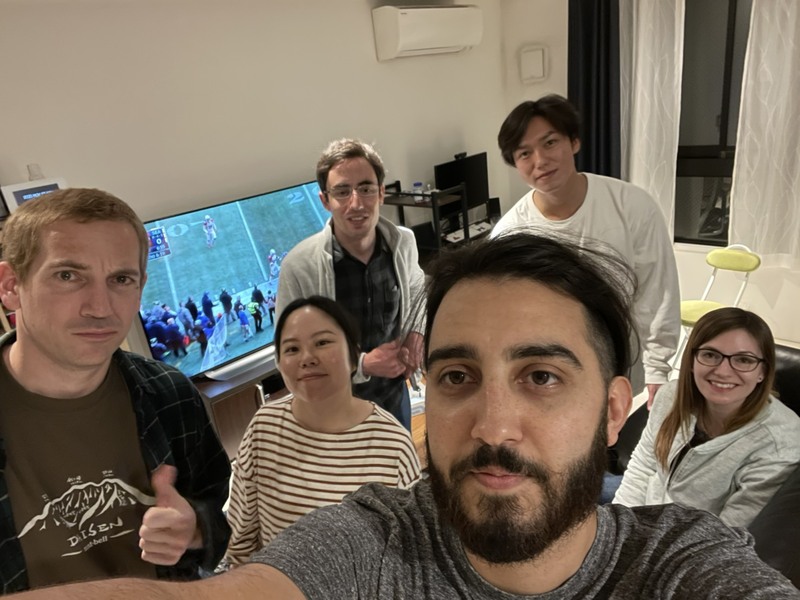 Turkey
I have an oven, Julie's old oven, and it's big enough to cook a turkey. So I ordered a turkey from the Meat Guy. Here's how I cooked it. This is a variant of a recipe from Food Network Magazine… Start with a frozen turkey. If possible, defrost the turkey in the refrigerator several days beforehand. Less preferably, use the microwave at 150 W, 6 minutes per pound, rotating occasionally.
1 10 lb turkey
salt
pepper
1 tsp sage
1 tsp thyme
1 small white onion
1 small carrot
1 celery stalk
150 g butter
Preheat the oven to 180°C (350°F). Place the oven rack in the lowest location. Lightly oil a 12" cast iron frying pan. Pat the turkey very dry with paper towels. Rub inside and out with salt and pepper. Dice the onion, carrot, and celery, and stuff into the cavity.
Melt the butter in a small frying pan. Mix in the sage and thyme. Put the turkey in the frying pan. Butter the turkey. Roast for 45 minutes. Then baste the turkey with drippings. Continue roasting for 30-60 more minutes, basting every 30 minutes, until the skin is golden brown. Use a meat thermometer to measure breast temperature, and stop roasting when it reaches 74°C (160°F). Wait 30 minutes before carving. Larger turkeys have longer roasting times.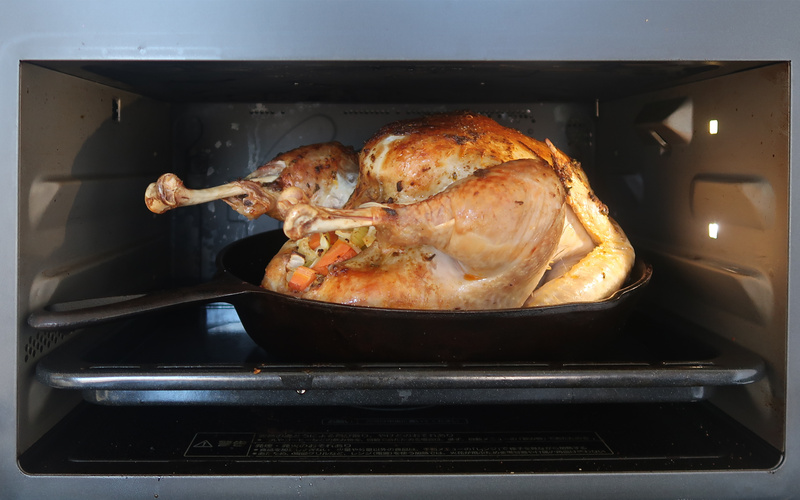 Gravy
After the turkey is in the oven, start making the gravy. This is a variant of a recipe by Slowturtle from AllRecipes.
4 cups (1 l) chicken broth
turkey giblets
½ cup onion
1 celery stalk
1 tsp salt
black pepper
½ cup (65 g) flour
turkey drippings
Dice the onion and celery. Put the broth, onion, celery, giblets, salt, and pepper in a pot. Cover and simmer for 2 hours. When the turkey is nearing completion, strain the broth. Heat the broth in a frying pan on medium heat. Add the turkey drippings and flour. Cook and stir for around 20 minutes. Use a blender to smooth the gravy out.
Bread Stuffing
This is a recipe for stuffing. Although, some people say that if you don't stuff it in the bird, it should be called "dressing" instead. This is a variation on Lisa Cericola's recipe from Southern Living. If you're not stuffing the bird, you can bake this before or after the turkey.
1 tbsp olive oil
2 tbsp (30 g) unsalted butter
¼ cup (55 g) unsalted butter
3 large eggs
2 cups celery (about 6 stalks)
1 green onion
3 cloves of garlic
1½ tsp thyme (dried)
1 tsp black pepper
2 cups (500 ml) chicken broth
6 slices of bread
1 tsp dried (dried)
salt
The day before cooking, cut the bread into 1" cubes and leave it on a tray uncovered overnight so that it becomes stale.
Preheat oven to 375°F (190°C). Slice the celery. Slice the green onions thinly. Mince the garlic. Lightly beat the eggs.
Heat oil and 2 tablespoons butter in a large frying pan on medium heat until butter melts. Stir in celery and green onions. Cook until tender, about 5 minutes. Add garlic. Cook 1 minute. Add thyme, salt, pepper, 1/2 cup chicken broth. Cook 1 minute.
In a large bowl, combine above mixture with bread cubes. Add 1/4 cup butter, eggs, and 1 1/2 cups chicken broth. Stir well. Spoon mixture into a lightly greased baking dish. Let stand 15 minutes. Bake until golden brown, 40-45 minutes. Sprinkle with parsley.