Tokyo Marathon
2017-02-26
The Tokyo Marathon was on Sunday, February 26, starting at 9:10. For regular runners, you apply in August and there's a lottery, the results of which are posted in October. After five years of applying, my number came up, so I started training and ran the race.
Checkpoint
タイム
(スプリット)
タイム
(ネット)
タイム
(ラップ)
通過時刻
5k
00:32:00
0:26:37
0:26:37
09:42:00
10k
01:01:04
0:55:41
0:29:04
10:11:04
15k
01:26:59
1:21:36
0:25:55
10:36:59
20k
01:53:07
1:47:44
0:26:08
11:03:07
25k
02:19:59
2:14:36
0:26:52
11:29:59
30k
02:46:58
2:41:35
0:26:59
11:56:58
35k
03:15:33
3:10:10
0:28:35
12:25:33
40k
03:44:51
3:39:28
0:29:18
12:54:51
Finish
03:57:12
3:51:49
0:12:21
13:07:12
Checkpoint
Time
(Split)
Time
(Net)
Time
(Lap)
Time of day
The above table is timing data from the Tokyo Marathon Foundation. The split time and net time are slightly different. I think they're trying to offset the waiting time at the start line. Anyway, the race started at 9:10, and I walked across the start line at 9:20. I think people were going slowly so they could take pictures, and we all started jogging right after that. The slow start is normal for a race with 36,000 people.
My lap times were fairly consistent. The 10k lap time was longer because of a quick restroom and stretch stop. And the 35k and 40k lap times were longer because I got tired. Still, I was happy with my speed, and how I kept the pace fairly well. If you go too fast at the beginning, you get tired and feel bad, which sucks, and your overall time can suffer greatly. My right calf was bothering me at the start, which is generally bad, but when I ran slowly, it felt fine, and that helped me keep a slow and steady pace.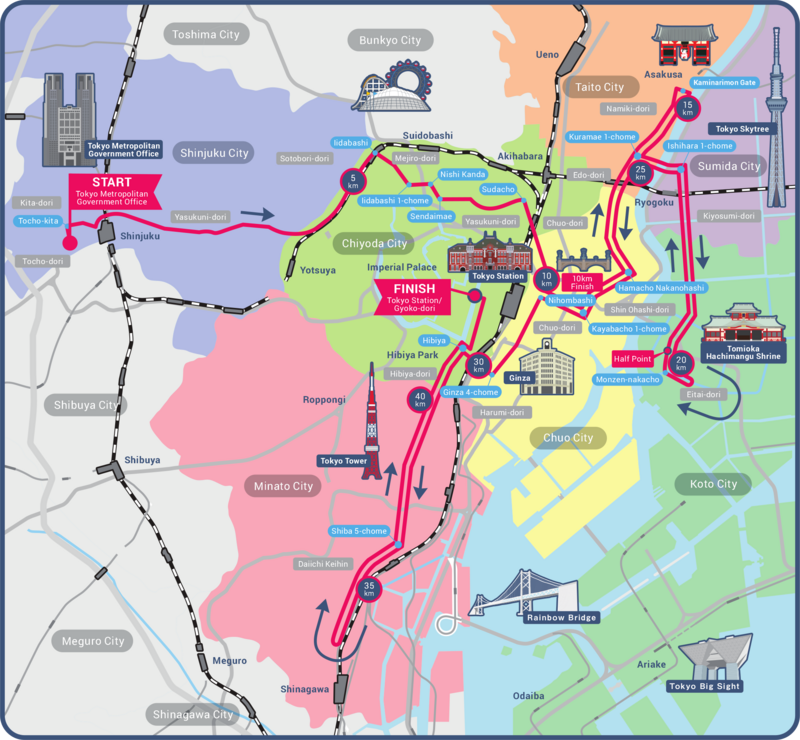 The area around the start is incredibly crowded. There were hundreds of toilets, but with thousands of runners in line, good luck! Better to use the bathroom at the train station, check your luggage, and wait for the race to start. There are many porta potties along the way, and once the crowd spreads out, the wait time is low.
It was cold at the start line, but what you can do is wear some throwaway clothes and a cheap rain poncho waiting for the starting gun. Both before and after the race starts, there are hundreds of volunteer staff members with trash bags who will take your unwanted clothing and throw it away. I wore a rain poncho, hat, and gloves until just before the race started. What's seven dollars matter when you've been training for six months?
The start line was cold, but overall the weather was wonderful. There was almost no wind, it was sunny, and it was fairly warm. The volunteer staff and fans along the road were all friendly and supportive, which makes a big difference when you're running for so long. The Tokyo Marathon has excellent drink and food stands. Every 5k there is a water or energy drink station. In the latter half of the race, there are several food stands. I ate an orange, a bread roll with cream in it, M&Ms, and seven umeboshi. The umeboshi were my favorite because of the salt. Those are the official drink and food stands, and many fans will give you free food or drink along the way, but that's in lower quantity so you can't plan around it.
The atmosphere of the race is great, because there are so many runners, many in costume, and the fans and volunteers are ridiculously excited. Plus, you get to run through the touristy parts of Tokyo: Shinjuku, Asakusa, the Sky Tree, and Tokyo Station. It's a lot of work training for a full marathon, and my feet hurt, but it was a fun race.
Adam and Tomoko came to cheer during the race, which was very cool of them, and later we had bacon cheeseburgers and milk shakes.
Expo
The expo for the marathon was held Thursday through Saturday at Tokyo Big Sight. We all had to go down there to pick up our bibs, time chips, and security wrist bands. Hundreds of vendors set up booths with shoes, running gear, energy drinks, and other touristy stuff. I bought a small towel and tried on some shoes.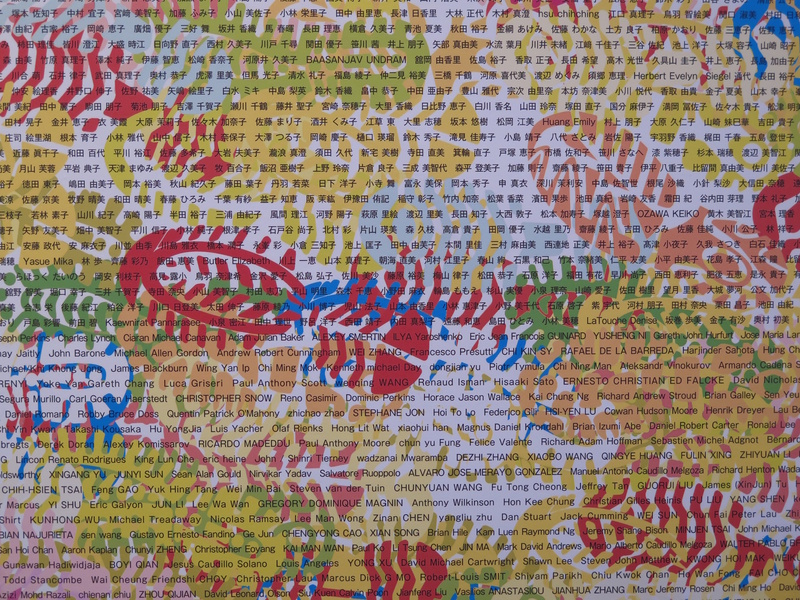 Training
Here's how I trained for the marathon. On days that I ran, the kilometers are written. For example, "10k" means I ran ten kilometers. Other sports are iconified: karate =
, volleyball =
, basketball =
, and dance =
. The application was due in late August. The entry results came by email on September 15, so that is when the calendar begins.
Month
Sunday
Monday
Tuesday
Wednesday
Thursday
Friday
Saturday
Month
September

16

17

10k

September

18

19

5k

20

21

7.3k

22

11.2k

23

24

25

5k

26

13.6k

27

28

29

30

5k

1

7.3k

October
October

2

3k

3

4

5

5k

6

7

8

9

10

24k

11

12

13

4.6k

14

15

16

17

18

5k

19

20

5k

21

22

23

24

7.3k

25

26

27

28

29

10k

30

8k

31

1

2

3

5k

4

5

November
November

6

5k

7

5k

8

9

10

11

12

2k

13

4k

14

4k

15

2k

16

5k

17

18

19

20

21

5k

22

23

5k

24

25

26

27

5k

28

5k

29

30

6k

1

2

3

7k

December
December

4

6k

5

7k

6

7

8

7k

9

10k

10

5k

11

5k

12

8k

13

14

5k

15

5k

16

12k

17

10k

18

23k

19

5k

20

12k

21

22

5k

23

12.8k

24

25

26

27

28

5k

29

7k

30

5k

31

8k

January

1

2

3

15k

4

10k

5

8k

6

7

January

8

9

23k

10

11

12

5k

13

7k

14

15

16

7k

17

18

7k

19

20

21

22

34.3k

23

8k

24

25

26

5k

27

28

29

7k

30

5k

31

1

7k

2

5k

3

7k

4

7k

February
February

5

20k

6

5k

7

8

5k

9

10

7k

11

7k

12

7k

13

8k

14

5k

15

7k

16

5k

17

7k

18

19

7k

20

21

7k

22

23

7k

24

25

26

42.195k

Month
Sunday
Monday
Tuesday
Wednesday
Thursday
Friday
Saturday
Month