Hiking in Okutama
2013-11-03
There are many hiking trails in the Okutama area. One popular destination is Mount Mitake (御岳山), which has a large temple complex and picnic area at the summit. If you want, you can hit up two other peaks — Mount Nokogiri (鋸山) and Mount Otake (大岳山) — on one same five hour stroll. Here are some maps.
The trail starts in Okutama (奥多摩). To get there, take the JR Chuo Line west to Tachikawa (立川). Change to the JR Ome Line and take that to Ome (青梅). If necessary, change trains at Ome, and regardless, continue to the terminus, Okutama. From the station, head down the hill to the traffic light, cross the bridge to the south, and look for the trail just west of the road. I don't know if there's a convenience store in Okutama, but even if there is, it's not conveniently located. There are many vending machines.
The trail starts by going up fairly steeply for quite a long time. In bad weather, this part of the trail could be slippery and therefore slightly dangerous. You pass by two areas with benches on the way up. After going up for a while, there is a small pagoda next to a small shrine. When I was there, the shrine was locked and nobody was around. Poke around here for some views. The first half of the trail is mostly in forested area (initially mostly pine and then transitioning to deciduous) with few overlooks.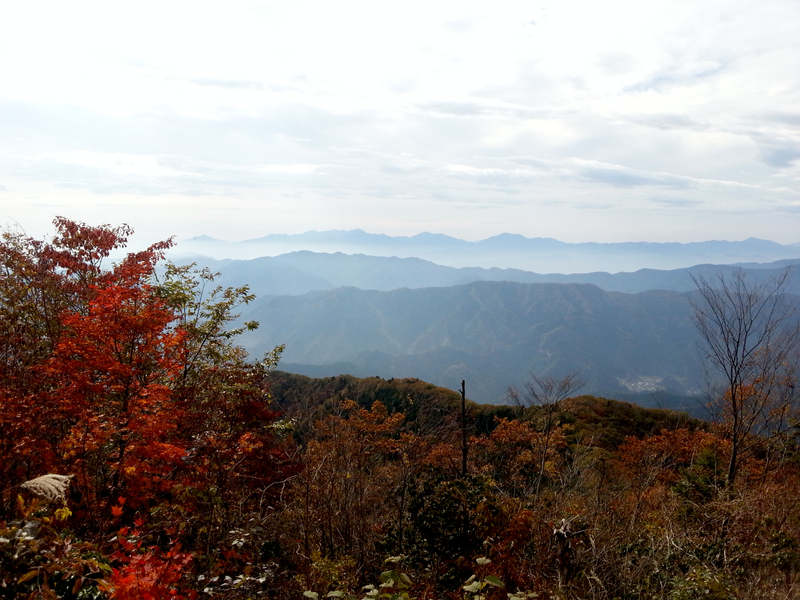 According to the guide book, there are three peaks on this hike. The above is Mount Nokogiri. There are no views from the summit of Mount Nokogiri, but instead a nice pine forest with benches. If you want to have a late breakfast or early lunch, this is a nice quiet location. The second peak, and also the most scenic, is Mount Otake. On a good day, as seen in the pictures below, you can see Mount Fuji from the summit. In point of fact, you can see Mount Fuji very well! You will find much more foot traffic starting here. Many people make a round trip from the trail head at Mount Mitake to the summit of Mount Otake and back, which is reasonable if you need to park a car.
The third peak is that of Mount Mitake, which is notable not for its elevation or exposure but rather for the shrine built at the summit. Many Tokyo families make day trips here in the summer and on weekends. If you're starting from this side, try to arrive early to avoid long lines for parking (if you're driving), the bus (if you're not), and the cable car (if you're taking it up). You can take the cable car up or down, if you like. There's also a small road down to the parking lot and bus stop. The bus goes to JR Mitakesan (御岳山), a few stops east from Okutama.
I did this hike in early November, and the temperature was ideal. In the fall you have to keep an eye on the weather forecast, because hurricanes and cold rain can show up. The guide book says the trail is generally hikable from March through December. There are a few exposed steep sections, and I wouldn't want to hike those in the snow. Other than that, early and late season hiking are probably good because they maximize the number of views. It took me around six hours to go from JR Okutama to JR Mitakesan stopping only for short breaks and avoiding the cable car. This is a nice day trip. Plus, you get to see Mount Fuji. If you live in or near Tokyo, you should probably do this walk sometime.