Rice Pudding
2011-09-02
The following is an easy recipe for tasty rice pudding. It's from a cookbook called The New Best Recipe, by Cook's Illustrated (2004, ISBN 0936184744).
2 cups water
2 ½ cups milk
2 ½ cups half and half
1 cup rice
⅔ cup sugar
1 ¼ tsp vanilla extract
¼ tsp salt
1 tsp cinnamon
½ cup raisins
Boil the water in a large saucepan. Add the rice and salt. Cover and simmer, stirring occasionally, until the water is almost fully absorbed (about 15 minutes). Add milk, half and half, and sugar. Cook on high until boiling, then lower to a simmer and cook for about 30 minutes, stirring frequently. Reduce heat to low and cook for another 15 minutes, or until a spoon can stand up in the pudding. Stir occasionally to avoid sticking or scorching. Remove from heat. Stir in vanilla, cinnamon, and raisins. Cool and eat. (Store in refrigerator, with plastic wrap pressed onto pudding. Eat within two days.)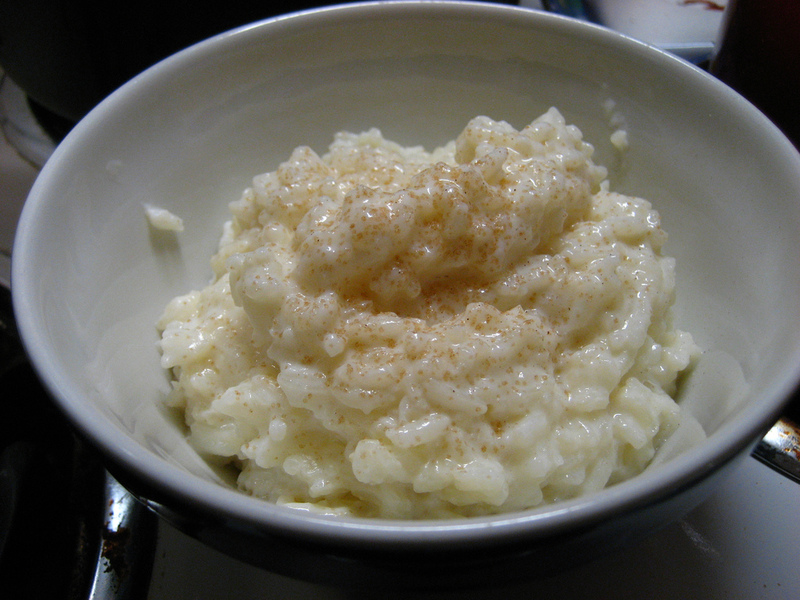 By Rudi Riet. CC-BY-SA 3.0.
これは「ライスプリン」のレシピです。ライスプリンはイギリスの食べ物です。
水 2 カップ
牛乳 4 カップ
生クリーム 1 カップ
米 1 カップ
砂糖 ⅔ カップ
バニラ 1.25 小さじ
塩 0.25 小さじ
シナモン 1 小さじ
レーズン 0.5 カップ
大きなソースパンに水を入れて、煮立てる。米と塩を入れる。蓋をして、水がほとんどなくなるまで(約15分間)静かに煮立てる。牛乳と生クリームと砂糖を入れる。蓋をしないで、30分くらい静かに煮立てる。弱火にして、中にスプーンを入れて立つまで(約15分間)煮る。火を止める。バニラとシナモンとレーズンを入れて、混ぜる。少し冷ましてから食べる。(冷蔵庫に入れ、二日以内に食べる。)