Kanji Flashcards
2011-03-22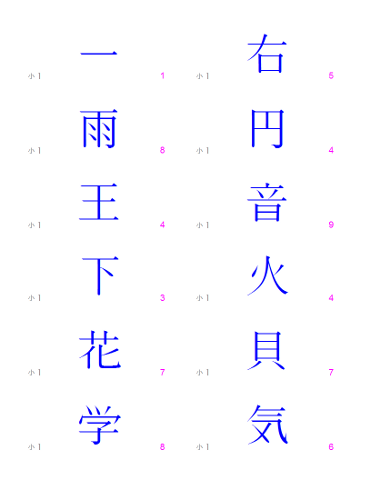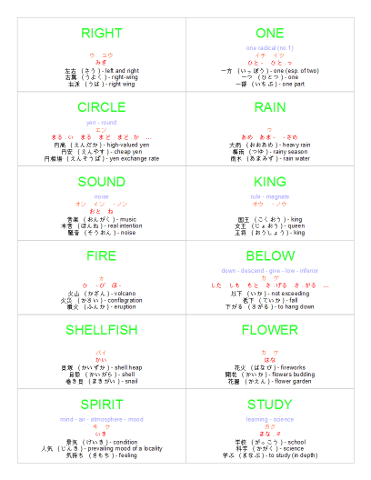 Here are some flashcards for studying kanji. They are designed to printed double sided on relatively thick A4 paper. The flashcards use colors, but if you only have a black and white printer, you could either print them anyway or open the odg files and modify the styles. You can read odg files with the free LibreOffice (or other software).
Here are the flashcards sorted by elementary school grade level. In Japanese, this collection is called the kyōiku kanji. Below that are cards for the JLPT.
Regarding the JLPT N3, these flashcards rely on KANJIDIC2, and that file does not reflect 2010 JLPT changes. I think there is no official list for new JLPT. Here N2 and N3 kanji are combined into the N2 set. If you're testing for N3, consider using 3rd and 4th grade cards from the above list — those are something close to the N3 kanji.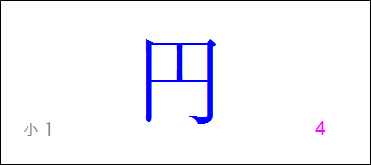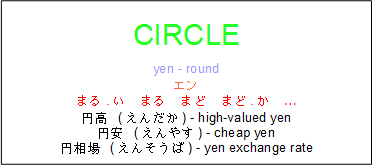 The front of each flashcard has the following information.
The kanji itself, in a big font.
The grade level, in the lower left corner.
The stroke count, in the lower right corner.
The back of each flashcard has the following information, from top to bottom.
An English word matching the meaning of the kanji as closely as possible.
The kanji definition. Omitted if the same as the above English word.
Onyomi, in katakana. Zero or more may exist.
Kunyomi, in hiragana. Zero or more may exist.
Example words using the kanji, along with their definitions.
I think the above cards are useful as they are, but if you're interested in making your own, it is possible. My ruby script gets the relevant kanji from KANJIDIC2, frequently used words from wordfreq_ck.txt, and word definitions from EDICT. KANJIDIC2, and EDICT are Creative Commons Attribution-Share Alike licensed.