Apple Crisp
2010-11-13
This is an old and wonderful recipe for apple crisp. It's a modification of the 1979 Fannie Farmer Cookbook recipe.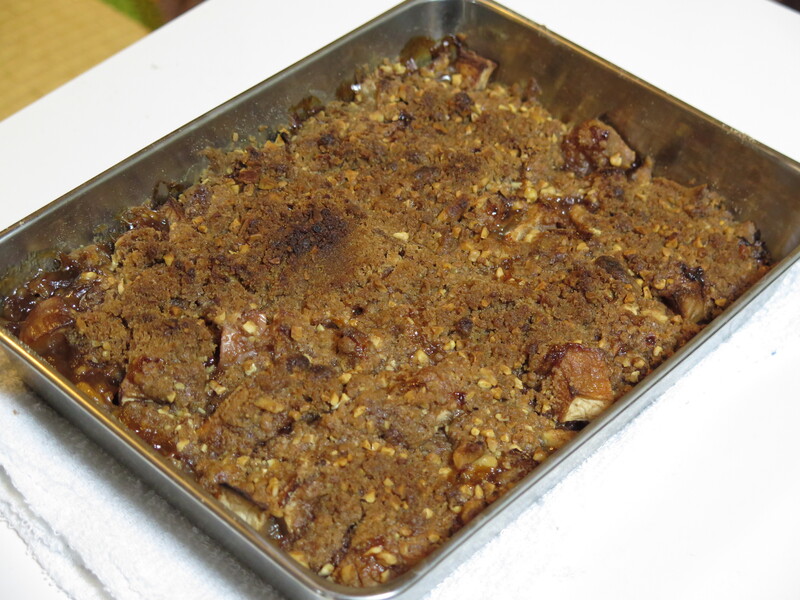 3 tart apples
¾ cup (75 g) flour
1 cup (170 g) brown sugar
1 tsp cinnamon
½ cup (45 g) walnuts
1 stick (110 g) butter
¼ tsp salt
Add cloves or extra cinnamon if you like. Butter a baking dish. Cut the apples into small slices and put in the baking dish. Mix the flour, brown sugar, cinnamon, walnuts, butter, and salt with your fingers or a fork. Then pour this mix on top of the apples. Bake at 350°F (175°C) until crust is brown (40-50 minutes). Let cool and eat. Optionally, serve with vanilla ice cream or whipped cream.
すっぱいリンゴ 3本
ケーキ用の薄力粉 175 cc (75 g)
黒砂糖 235 cc (170 g)
くるみ 120 cc (45 g)
シナモン 小さじ 1
バター 120 cc (110 g)
塩 小さじ ¼
天板はバターをします。リンゴを切って、天板に入れる。フォークで薄力粉と黒砂糖とくるみとシナモンとバターと塩を混ぜて、リンゴの上に入れる。175°Cでオブーンに焼きます、40~50分。10分待って、食べる。