Chocolate Chip Cookies
2010-08-15
This is an old and wonderful recipe for chocolate chip cookies. It's a modification of the 1979 Fannie Farmer Cookbook recipe.
1 stick (110 g) butter
½ cup (100 g) white sugar
½ cup (90 g) brown sugar
1 egg
¾ tsp vanilla
1 ⅛ cups (155 g) flour
½ tsp salt
½ tsp baking powder
½ cup (45 g) walnuts
1 cup (170 g) semi-sweet chocolate chips
Soften the butter and mix with the white and brown sugar. Mix in the egg and vanilla. In a separate bowl, mix the flour, salt, and baking powder, and then add to the butter mixture. Mix in the walnuts and chocolate chips. Place in teaspoon-size balls on a buttered cookie sheet and bake at 375°F (191°C) for 8-10 minutes or until light brown. Let cool, eat, and enjoy!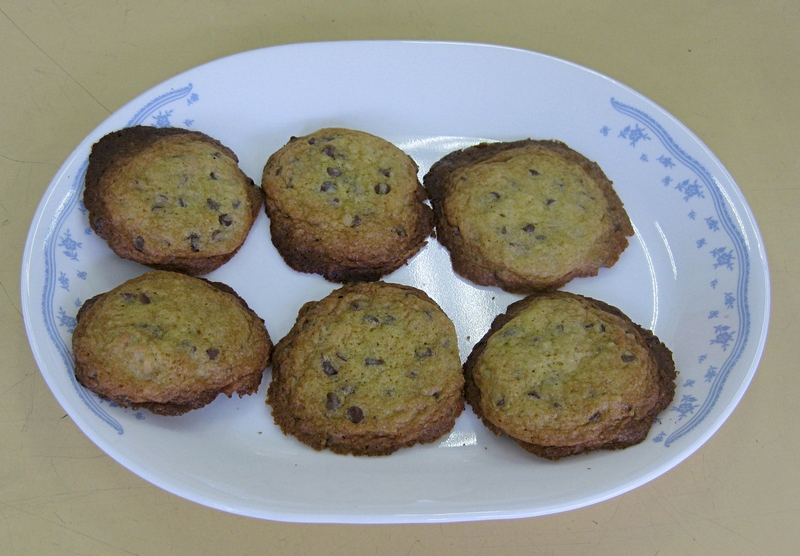 バター 115 g
砂糖 ½ カップ (100 g)
黒砂糖 ½ カップ (90 g)
卵 1個
バニラ 小さじ ¾
小麦粉 1 ⅛ カップ (155 g)
塩 小さじ ½
ベーキングパウダー 小さじ ½
くるみ ½ カップ (45 g)
チョコチップ 1 カップ (170 g)
バターを常温にして、ボールに入れる。砂糖と黒砂糖を入れて混ぜる。卵とバニラを入れて混ぜる。他のボールで小麦粉と塩とベーキングパウダーを混ぜる。これを上のミックスに入れて混ぜる。くるみとチョコチップを入れて混ぜる。くっつかないようにトレーにバターをぬる。食べやすい大きさ形にする。191°Cのオーブンで8~10分焼く。冷まして、食べる。